Description
Double Flip Mount for Nauticam Macro / Flat Ports
With this double wet lens holder, it is very easy to swap between two different macro lenses to have different options on one dive without having to screw and unscrew the diopters. Have a go with a SubSee +5 and if that is not enough, flip down the Nauticam SMC-1 and have more magnification.
The Double Flip Adaptor fits on the Nauticam adapter-ring #81222  – The adaptor ring fits all ports with a 67mm thread and is included in the shipment.
This double Flip-Mount can be used with the following Nauticam ports:
Nauticam N120 Macro Port 60 #18701
Nauticam N120 Macro Port 87 #18702
Nauticam N120 Macro Port 94 #18703
Nauticam N120 Macro Port 41 #18704
Nauticam N120 Macro Port 45 #18705
Nauticam N120 Macro Port 15 #18304
Nauticam N120 Macro Port 30 #18305
Nauticam N120 Macro Port 50 #18306
Nauticam N100 Flat Port 37 #37128
Nauticam N100 Flat Port 32 #37127
Nauticam N100 Macro Port 110 #37125
Nauticam N100 Macro Port 105 #37126
Nauticam N100 Macro Port 55 #37123
Nauticam Macro Port for Canon EF-EOS M Adaptor #36182
Nauticam N85 Macro Port 65 #36163
Nauticam N85 Macro Port 56 #36136
Nauticam N85 Macro Port 45 #36135
Nauticam N85 Macro Port 35 #36139
Nauticam Macro Port 45 with Focus/Zoom knob #36128
Nauticam N85 Power Zoom Macro Port 29 #36165
Nauticam Macro Port and Focus Gear Set #36203
Nauticam N200 Macro Port 40 #16401
The following macro lenses can be used with this double adaptor:
SubSee +5
SubSee +10
Nauticam CMC-1
Nauticam CMC-2
Nauticam SMC-1
Nauticam SMC-2
INON UCL 165 M67
INON UCL 90 M67
INON UCL 67 M67
Dyron +7 67mm
Bluewater +7
Fantasea UCL-05LF
Fantasea UCL-06LF
Fantasea UCL-09F
SAGA +5 Diopter Achromatic Close-Up Macro Lens
SAGA +10 Diopter Achromatic Close-Up Macro Lens
SAGA +15 Diopter Achromatic Close-Up Macro Lens
SAGA +20 Diopter Achromatic Close-Up Macro Lens
SAGA +25 Diopter Achromatic Close-Up Macro Lens
other macro lenses with an outer diameter of 70mm (2.75 inches) will fit in the INON / Dyron / Bluewater adapt0r
other macro lenses with an outer diameter of 68mm will fit in the SubSee / SMC adaptor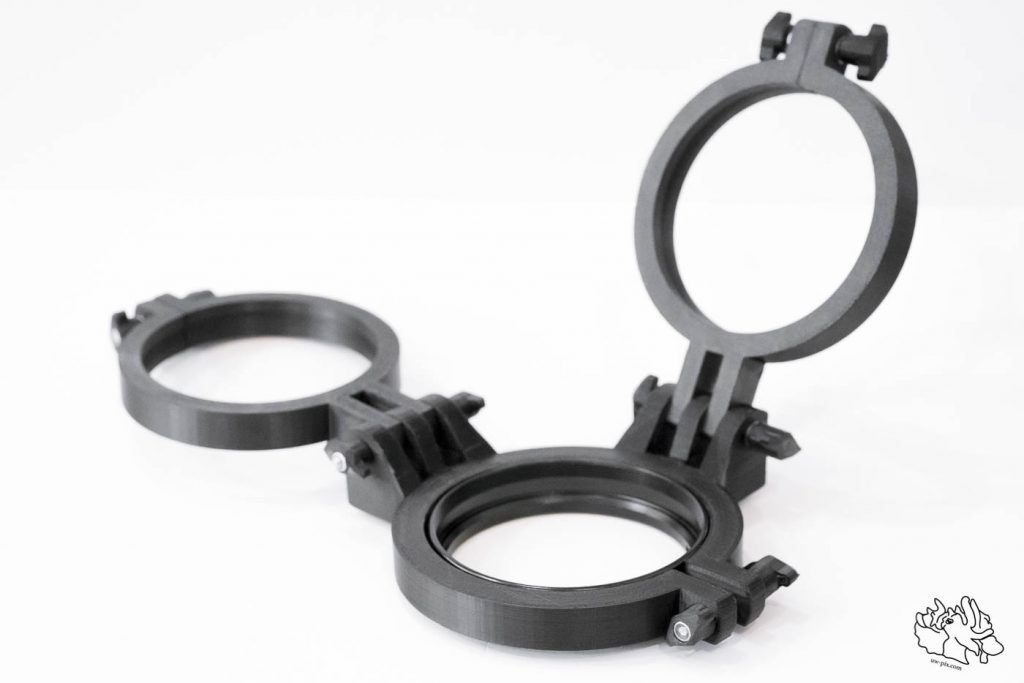 Unlike with other adapters on the market, the 67mm thread of the Nauticam ring is still useable, you can screw a third macro lens or a wide-angle converter lens in the thread while using the Flip-Mount!
The Flip-Mount can be rotated into the position you like best!
The diopter holder is 3-D printed out of lightweight, durable ABS plastic material. (The Nauticam Adaptor-ring, Nauticam CMC-1, Nauticam CMC-2, SubSee +10 lenses and the Nauticam port are not included)
Please choose the two lenses you want to attach to the Flip-Adaptor before checking out. If you're having trouble finding the right Flip-Mount for you, please contact us or check out some other options here.
THE NAUTICAM ADAPTOR RING 81222 IS INCLUDED IN THE SHIPMENT!
Included in the shipment are:
Double Flip-Mount, the Nauticam Adaptor-ring #81222 , 5x stainless steel screws with self-locking nuts.