Fangblennies make interesting subjects as they often can be found in bottles where we can separate them easily from the distracting or unappealing background. They're often under-appreciated as they're relatively common in the mucky sites of the Lembeh Strait. Giving them a little bit of time to get used to the camera in front of them, they will pose for the camera very easily. Sometimes they even yawn! There are different opinions on why the yawning happens – either to display the impressively big mouth and scare away possible enemies, or to stretch the jaws, or just because they're tired.
So here's how to shoot them: Just get very close to fill the frame with the subject and then wait….at first they might hide in the bottle or hole they hang out in, but after a little while they will come back out. So take some test shots while they're still in the bottle to get your exposure and background color right, after that is done you just have to wait until they're in the right spot and then – bang!
Being patient sometimes pays off – after waiting almost 20 minutes and firing at the exact moment of action, I got the lucky shot…Striped poison-fangblenny (Petroscirtes breviceps) – Canon 7D, 60mm macro, ISO 160, f16, 1/200sec, 1x INON Z-240 with DIY fiber-optic snoot
---
The two enlarged, grooved canine teeth for which fangblennies get their name are situated in the lower jaw. The fangs can get very large and while not especially dangerous to most people, fang blenny bites can be quite painful. Fortunately, because of its small mouth, envenomation of humans by this animal is unlikely. That being said, some of the species we see here in Lembeh have fangs up to 1cm long – I'm sure you heard that before: look, but don't touch! The two most common species we have here are the striped fangblenny (Meiacanthus grammistes) and the striped poison-fangblenny (Petroscirtes breviceps), which mimics the former – they look very similar at first sight, but upon closer inspection you can tell the difference. Meiacanthus grammistes has a small blueish-black spot near the head.
Meiacanthus grammistes (left) and Petroscirtes breviceps (right)
---
The striped poison-fangblenny (Petroscirtes breviceps) can also change color at will and sometimes you can get different images within seconds: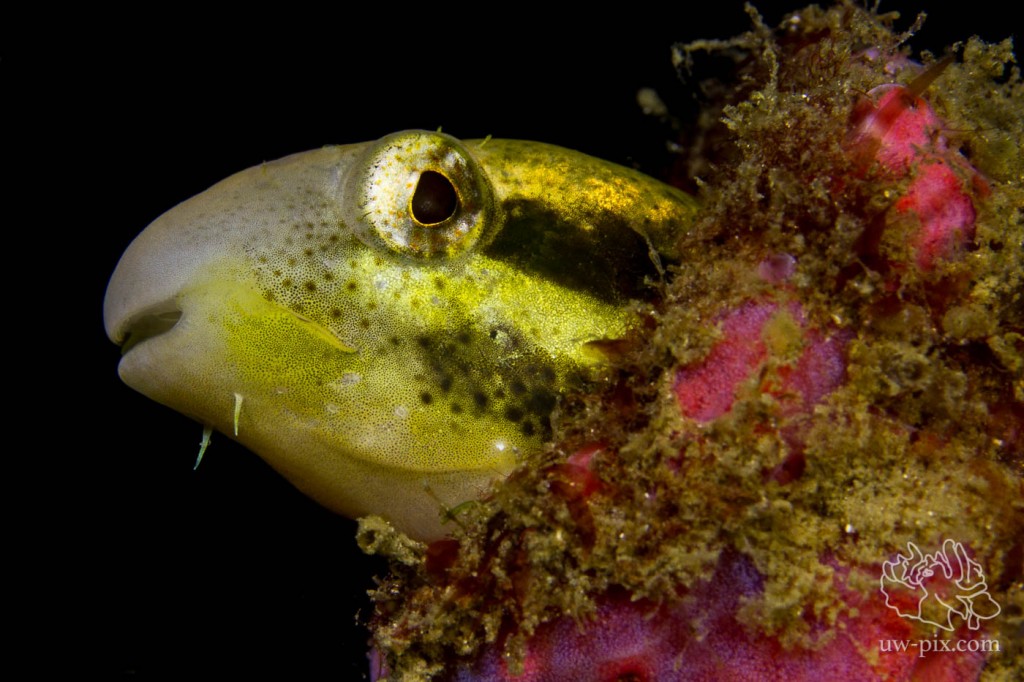 Petroscirtes breviceps – Canon 7D, 60mm macro, ISO 160, f11, 1/160sec, 2x L&M SunRay 2000
Petroscirtes breviceps – 7 seconds later and the yellow coloration is almost gone – same settings as above
---
Sometimes fangblennies also make a nice black and white image – The striped poison-fang blenny (Petroscirtes breviceps) yawning for the camera (this is a screen-shot from footage shot with the SONY A7RII, 90mm macro lens)
---
When diving coral sites in Lembeh, we also often see the "smiling" bluestriped fangblenny (Plagiotremus rhinorhynchos) which mimics cleaner wrasses. This species can also change color at will, and can be orange as in the image below or display black and blue stripes to blend in with the cleaner wrasses. I like to shoot them with narrow depth of fields (low f-numbers) and by moving the strobe around, the coral they sometimes sit in can create dramatic shadows even without snoots.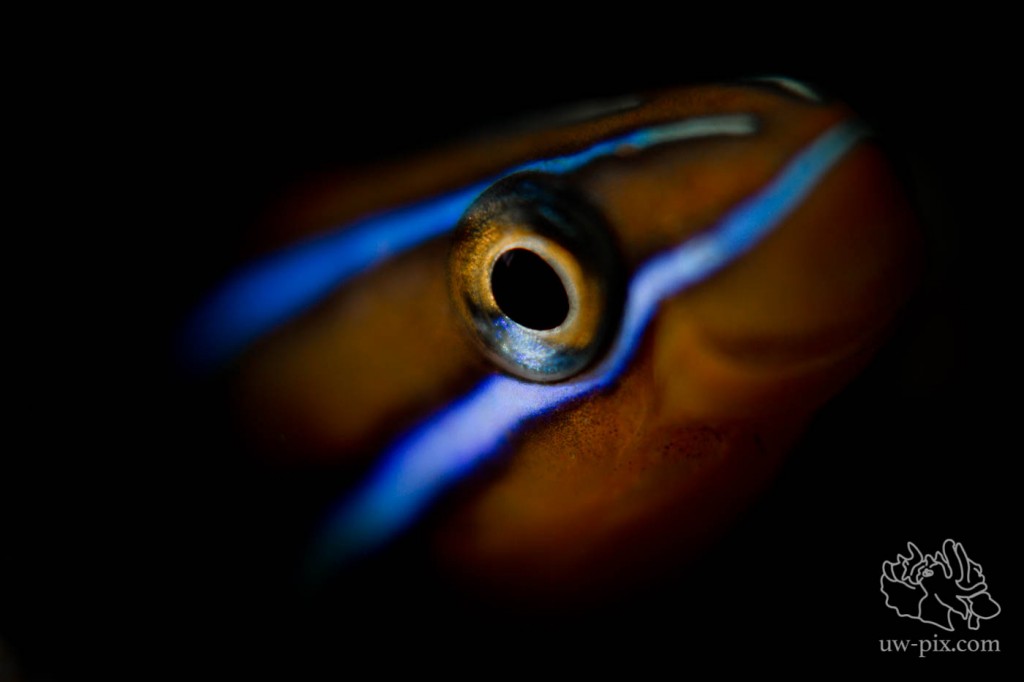 Plagiotremus rhinorhynchos – Canon 7D, 100mm macro, ISO100, f2.8, 1/250sec, 1x INON Z-240
Almost all of these fangblennies are not skittish and fairly large (around 10cm/3inches) so pretty much all macro lenses are suitable for getting good shots.